Jake: HEY MOM, CAN YOU TELL US A SCARY STORY?

Brittney: WHICH ONE?
Michael: THE ONE ABOUT "SLEEPY HOLLOW."

Michelle: CAN WE HEAR ABOUT HOW GENERAL HOWE OVER COMES HIS FEARS OF THE HEADLESS HORSEMAN?
Joey: I WANT TO HEAR THAT ONE MICHELLE IS ASKING ABOUT.
You guys have met John Phillips. He is related to Michael Phillips is related to Joey Phillips. General William Howe never had any kids of his own, so Richard would be the only one with kids of his own. Brittney Howe, the mother of Jake and Michelle Howe also related to Richard Howe in which makes him Great-Great-Great-Great Grandfather.
The story of Sleepy Hollow kicks off here.
We already know what happen in Issue #1 and Issue #2. Issue #3 is the next one after we finish Issue #0.
UPCOMING DATES
Nov. 8th- Page 2: No Way, Mike!
Nov. 11th-NEWS UPDATE
Nov. 13th-Page 3: How About The Phillips Brothers
Nov. 15th-Page 4: Howe Only Had Two Brothers
Nov. 18th-NEWS UPDATE
Thanksgiving is coming very soon.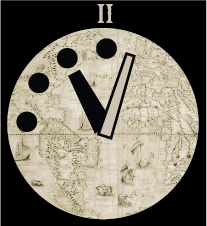 Doomsday Clock