The Gibson Girl hairstyles started in the 1890's and still in fashion in the early 1900's & 1910's. The early 1900's is part of the Edwardian era. For the shapes of the silhouette, they sure do have some of that Mantuas in them. General Howe have talk about in before in one of the early posts. Even the corsets got tighter with the waist being smaller or tiny. Now, here are some of them.
This one looks like it had a bustle.
Waistline remain the same til 1908.
And one more.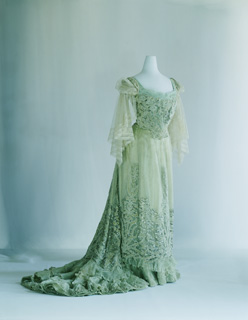 The dress is an House of Worth
That's it is all from that.
And now the fashion plates.
And one more.
The waistline went up from the early 1910's.
Dec. 28th, Civil War Era: 1861-65
Dec. 29th, The Titanic Era: 1911-14
Dec. 30th, The 1830's: The Big Sleeves
Dec. 31st. The Roaring 1920's
Jan. 1st, The 1850's
Jan. 2nd, The 1840's
Jan. 3rd, The Late 1910's: 1915-20
Jan. 4th, Evil Howe's Favorite Era
Jan. 6th, General Howe's Bio
Jan. 7th, General Howe Talks About His Favorite Foods
Jan. 8th, Charles Worth's Gowns
Jan. 9th, Jean Worth's Gowns
Jan. 13th, News Update
Jan. 15th, Pages 12-14: The Family Tree
Jan. 17th, Issue 3: Begins
Jan. 20th, News Update
Jan. 22nd, Title Page
Jan. 24th, Page 1: You've Been Causing These Dreams
Jan. 27th, News Update: The Very Last
Jan. 29th, Page 2: Ten More People Killed
Jan. 31st, Page 3: Have Fun With That
Come back tomorrow for the Civil War era dresses.
General Howe: HOLD ON THERE, EVIL HOWE, THERE IS ONLY 5 MORE DAYS TO GO AND YOU HAVE TO WAIT JUST LIKE THE REST OF US.